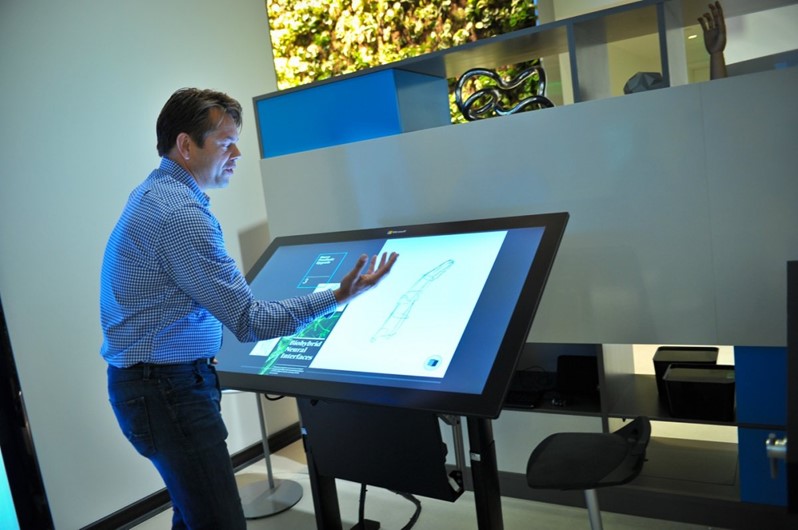 Some days ago, I had the chance to evaluate the new Perceptive Pixel by Microsoft devices. Actually, there are two different devices a 55" and a giant 82". 55" unit is based on a Samsung full hd LCD panel, 82" is based on a Sharp full hd lcd panel.
These two versions are only available for development partner in the US. New coming version will be distributed all around the world but now, there isn't a release date. Based only on my thought I would say 12 – 20 months.
Frist Impression
First feeling I had interacting with these devices is that by touching it, even if both are equipped with gorilla glass, you don't feel the glass's cold. Even when you drag elements on the surface, you don't feel the typical glass resistance but you feel your finger sliding with low resistance, something really near to the feeling you have by interacting with the first original Surface V.1.
When I talked about this first impression, they confirmed that glass is treated with some acrylic material to achieve the result I described.
Second appreciated behavior I discovered is that no matter how heavily you press your finger on the device you don't see any distortion on the lcd panel. If you experienced touching some displays you saw this behavior many times. You will not experience this bad behavior on PPI devices because in Microsoft this time are caring of particular like this.
To avoid distortion caused by pressing the lcd panel the panel is separated by the touch glass and on the vacancy is filled with some acrylic substance that doesn't affects the sharpness of the display and also acts as absorber for all the touch pressure received.
Touch and Stylus
PPI by Microsoft supports massive multitouch with unlimited simultaneous touch points and supports input from 6 stylus simultaneously.
On actual large multitouch displays we are used to see devices with touch responses that has some delay, usually arroud 50 – 100 ms.
PPi Touch and stylus inputs comes with zero delay, zero-force sensing, and near-zero parallax deliver instant. These drammatically increase the user experince on a large multitouch display, thans to PPI by Microsoft there is no difference using a Nokia Lumia smartphone, a Surface tablet or a giant multitouch display.
6 stylus supports becomes really functional when you use it with Windows 8.1 and Microsoft Office so you can use all facilities that comes built in with the operating system
Palm rejection
Having nearly an unlimited number of touch points on a so huge touch area means that you can have many users using the device at the same time. And it also means that you can cause lots of unwanted touch by touching the device with palms or other parts of the body.
I've talked about this in a previous post.
PPI by Microsoft has a built in feature to automatically detect palm and fingers including orientation that allows filtering out palm input in apps, allowing the user to lean on the table without accidentally generating unwanted touch input.
Overscan Area
PPI by Microsoft devices has a built in feature called "Oberscan Area", device is able to register touch points even on the bezel, beyond the visible screen. This functionality could be used for enanche the application user expirence and to create unique functionality. Can't wait to implement it on my applications!
Multitouch Device or Platform?
PPI by Microsoft device used in conjunction with Windows 8.1 and all the built in functionality of the os, Microsoft Office included, becomes the product that is designed for collaboration.
For example, if you are in the conference room showing customer the design of their app. you can snap the current mock up. On the left, you show the current mock and on the right, you can begin sketching up a new one.
What I'm talking about is best explained on the following video by Matthew Goddard, Perceptive Pixel Solution Specialist at Microsoft.
You can also extend all the built-in functionalities by writing you own multi-touch multi-user experience by writing your application with the well-known tool and framework that you use to develop your Windows Store Application.
So, PPI by Microsoft / Windows 8.1 / .Net Framework become a platform! A platform with many powerful tool to design and develop you amazing multi-touch multi-user collaborative experience.
At the moment the only downside is that there isn't any design guidelines for multi-touch multi-user collaborative user experience in Windows 8.1 but I will discuss this argument in a future post.
Utilization scenarios
Following my vision, I see tabletops everywhere so even if PPI by Microsoft devices are originally intended to be placed vertically, I'm strongly convinced that based on the utilization scenario PPI by Microsoft multi-touch, multi-user capabilities could be enhanced by mounting it in a 45° or like a tabletop.
Technical specification
1920 x 1080 HD resolution
Optically bonded LCD touch display
Bezel-less, full glass front
Built-in color correction
Projected capacitive technology
Unlimited touch points
Sub-millimeter touch precision
Near-zero parallax
Ultra-low latency touch response
Active stylus support
120 Hz frame rate for display and touch sensor
Overscan area
Integrates with conference room control systems
Options: Fixed vertical stand
Conclusion
On the hardware side, Microsoft has been building awesome touchscreen devices for years. With this device they mixed up all the knowledge and experience they had to create the best large format multitouch device I ever used.
On the software side, these aren't devices but you can think at it as a platform and you can develop for that platform by using .Net Framework and Visual Studio.
The only lack at the moment is the guidelines for guidelines for multi-touch multi-user collaborative user experience, I will discuss this argument in a future post. If you are interested in the argument you can refer to the Microsoft® Surface® 2 Design and Interaction Guide
Looking forward to the PPI by Microsoft V2 to have one in my office
Disclaimer
All picture on this article are freely taken from internet and every rights is owned by the owner, I'm showing these here only for demonstration purpose.